If it fits in your car and can be safely transported, then - yes you can.
As large TVs can be easily damaged in transit, we recommend you choose Delivery when purchasing online. However, if you've chosen to Click & Collect a TV of 50+ inches we'll take you through our TV Handover checklist to make sure you understand how to safely move and handle your new TV without damaging it.
We'll also ask you to sign our checklist to confirm that the TV and packaging was in good order when we handed it over to you.
What size TV will fit into my vehicle?
If the TV you are keen to purchase is larger than the vehicle you are using to collect then the likelihood is that it is not safe enough to take home in and will not be handed over to you.
Here's our guide on average sizes for different vehicles: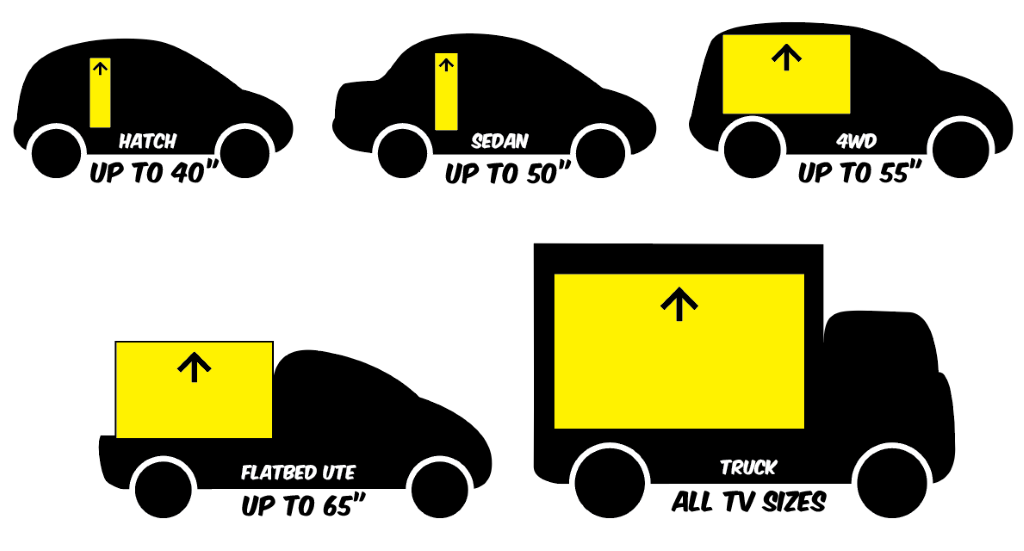 Let's avoid you going home empty handed ...
If you think your vehicle will not be big enough to safely transport it we suggest choosing 'Delivery' and let our carriers do the heavy lifting.
Tips for a smooth pick up
Organise a vehicle that will fit your TV: If you're unsure, please measure your vehicle before you make the trip. You can find the package dimensions of our TVs on our website in the 'Details' tab of the product page.
All TVs must be transported standing up and should be moved in their packaging to avoid damage.
Bring restraints to safely secure your TV - we can't load your goods if it's unsafe.
Make sure you bring your physical photo ID and ready for collection email to collect.
Bring someone to help out: Most TVs require two people to handle and unbox safely.
Need help finding a new TV?
Take our TV finder for a spin to compare the best options for you.