Please be aware that there are a growing number of fraudulent or misleading scams using the names of well-known retailers, including JB Hi-Fi. These can involve emails or SMS messages, phone calls, social media posts or other unsolicited promotions that use the JB Hi-Fi brand to request personal or financial information or direct you to "scam" websites that appear to be linked to the retailer.
These may also take the form of competitions to win gift cards or purchase heavily discounted products, which for example:
ask recipients to fill out surveys and provide personal details.

send SMS or email messages directing you to websites requesting credit card details to purchase product or personal information (these websites may look like JB Hi-Fi websites).

ask recipients to share, comment or like a Facebook page.

ask recipients to settle a debt with a government department with products bought from JB Hi-Fi.
Please note that JB Hi-Fi will never ask for your personal or banking details in unsolicited communications. JB Hi-Fi's official website can be found at jbhifi.com.au and any JB Hi-Fi special offers or competitions can be found on this website. We suggest that you do not respond to or participate in, any offer that appears suspicious or too good to be true.
Customers should also be aware of any unsolicited emails from a legitimate source that ask you to create an account, log into an account, re-activate an account or reset a password for an account, without being prompted by a request made by you.
If you have a query about an offer that you've received, please email socialmediasupport@jbhifi.com.au. If possible, please include any screenshots or URLs that might help us to respond to your query in a timely manner.
If you would like more information on current scams or would like to report a scam, please contact SCAM watch via their website at https://www.scamwatch.gov.au/report-a-scam
In addition to the above you can use the following ways to help minimise your risk of being exposed to scams:
Use the latest version of your anti-virus software

Use the latest version of your web browser
Examples of known scams:
Fake websites
We are aware of sponsored ads on Google pretending to be JB Hi-Fi. When you click the link it takes you to a fake page that resembles JB Hi-Fi's, but a promotional spinning wheel pops up. 
When shopping with us please ensure you have the correct website. Our only official Australian website is www.jbhifi.com.au

Delivery notification
Notifications regarding a delivery requesting payment or address details.
SMS competitions and gift scams
SMS sent from "JBStore" informing you've won a competition and directing to an external link. SMS notifications advising you've won a prize that can be picked up in-store.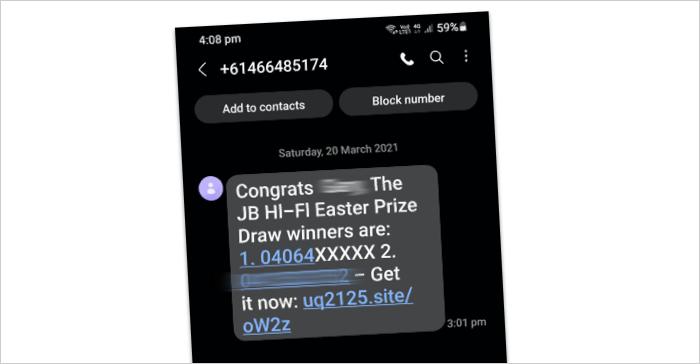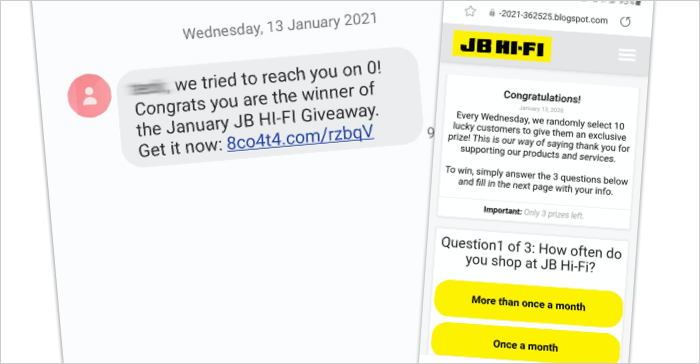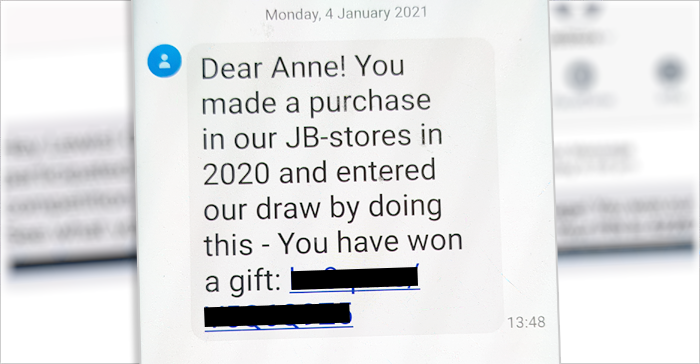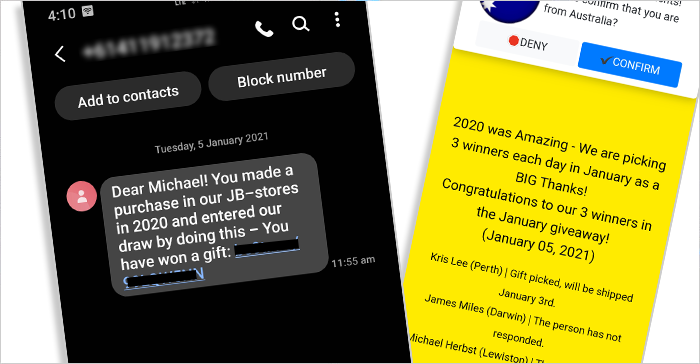 Personalised winner email
Emails claiming you've won a competition with a button directing to a survey to claim a gift.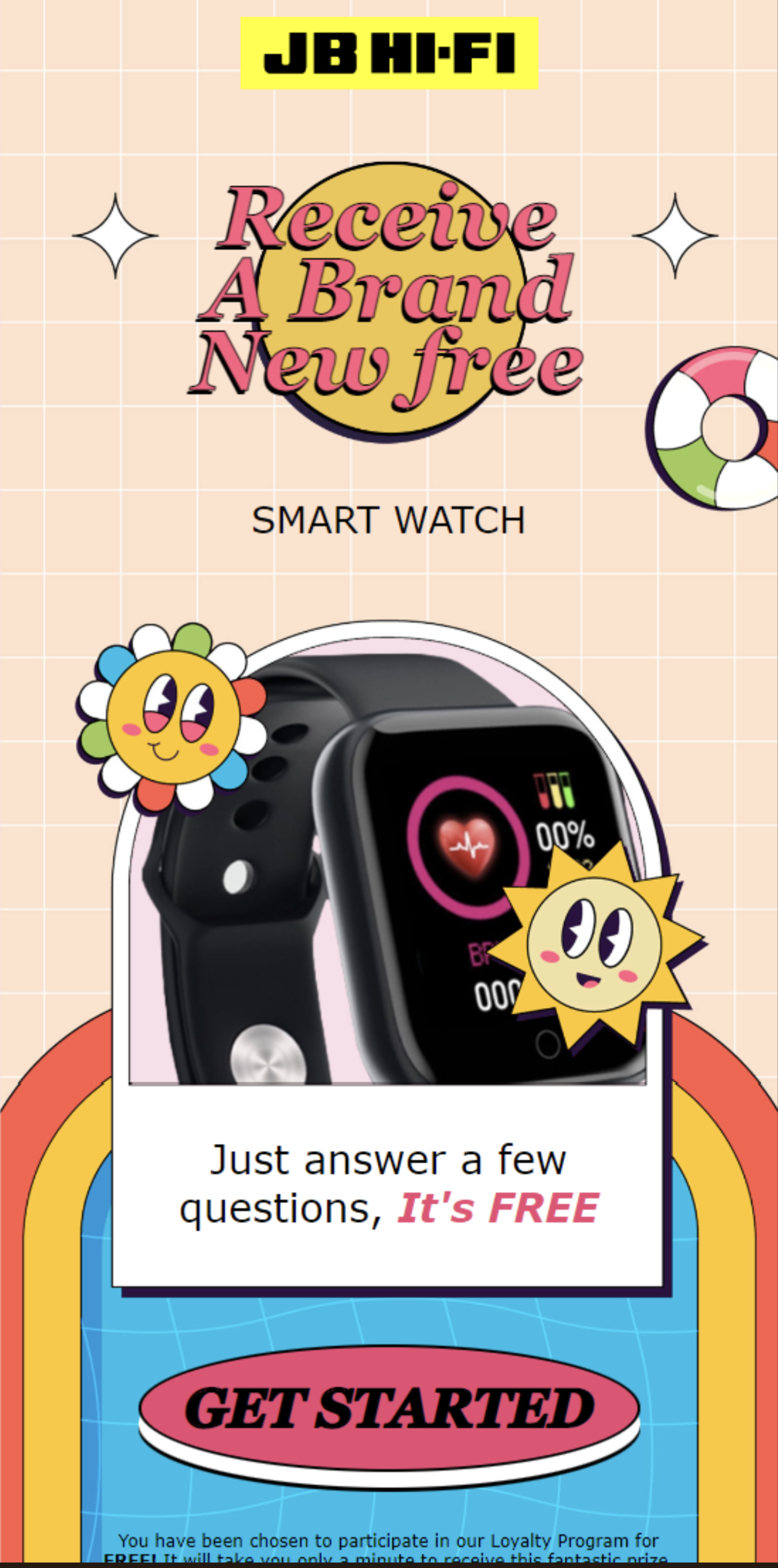 .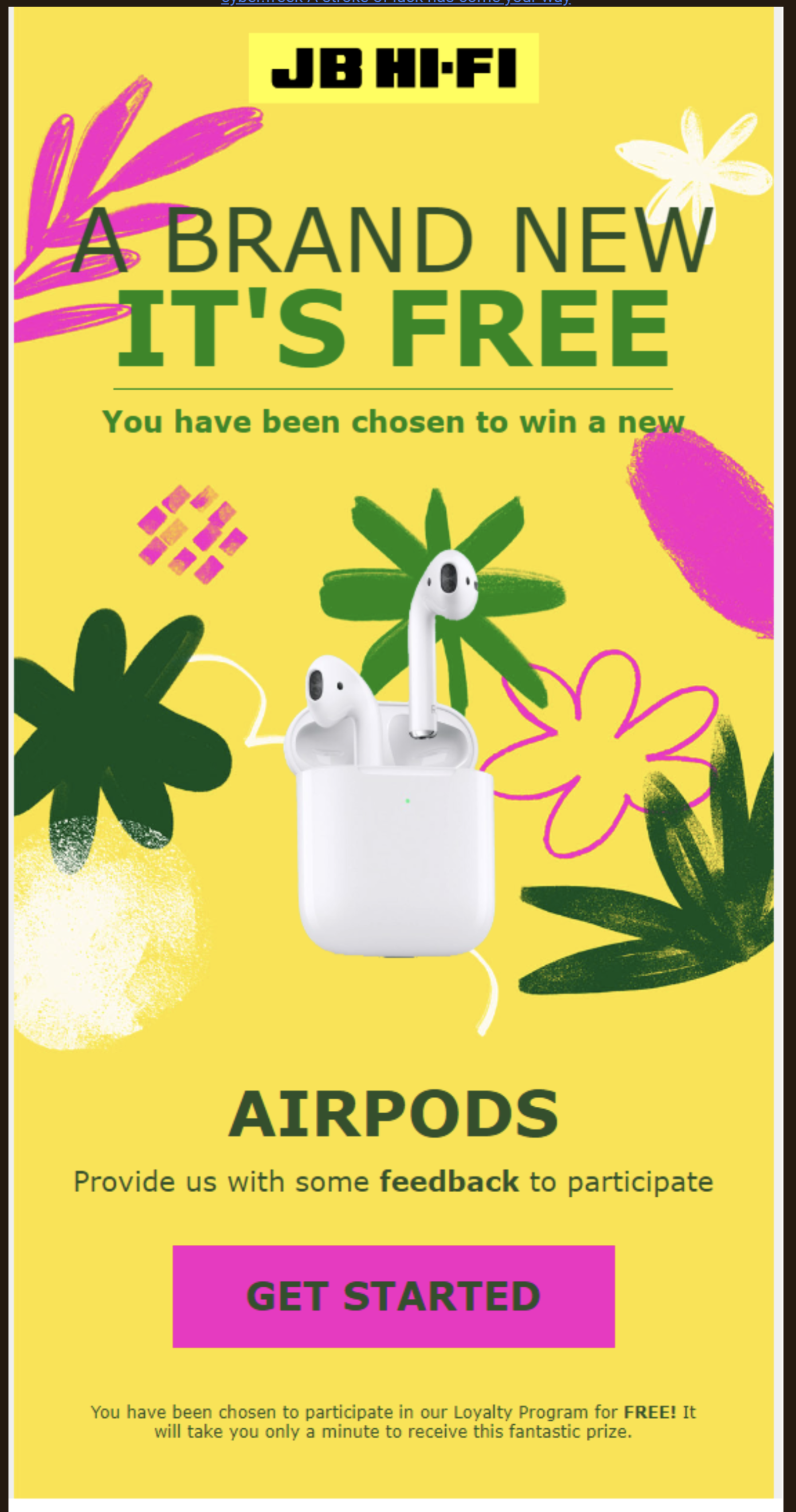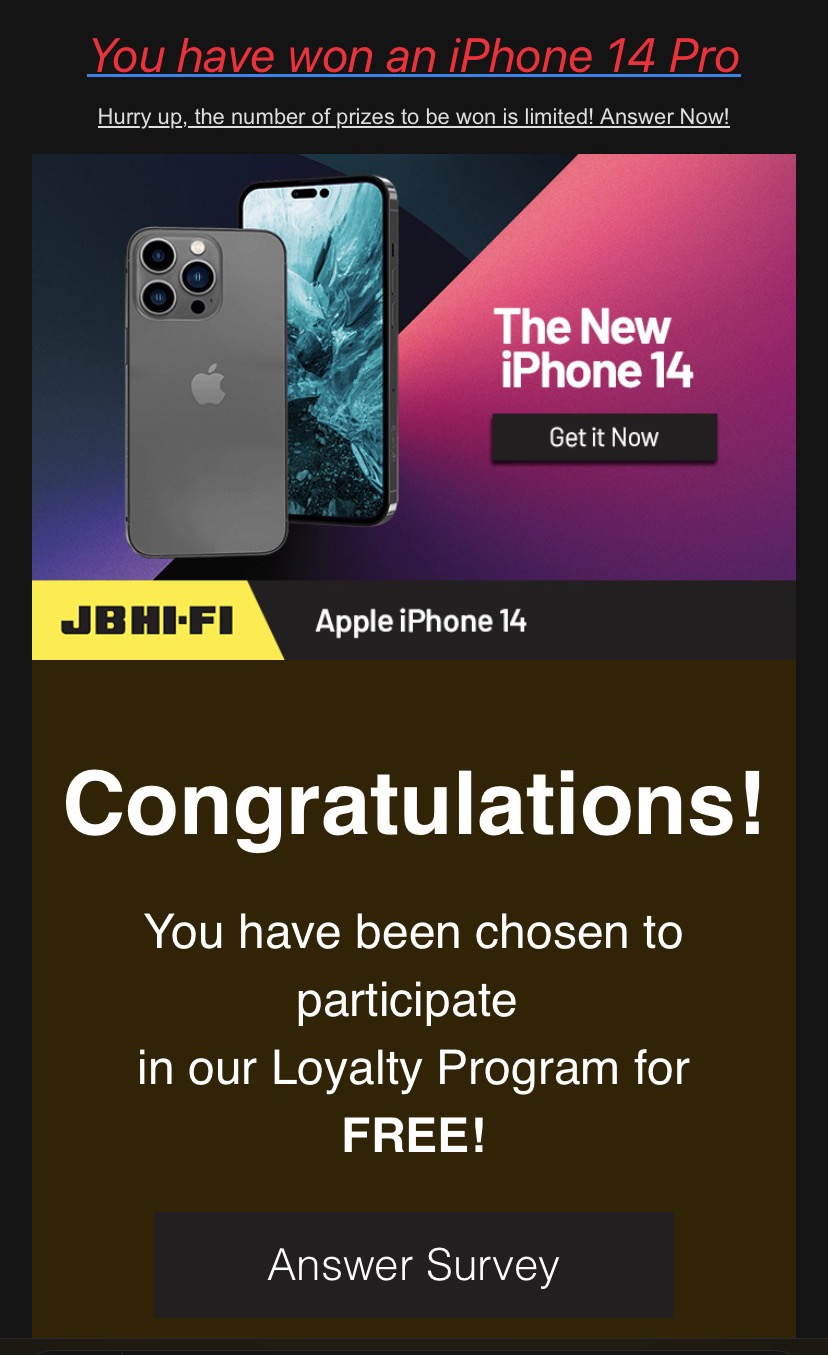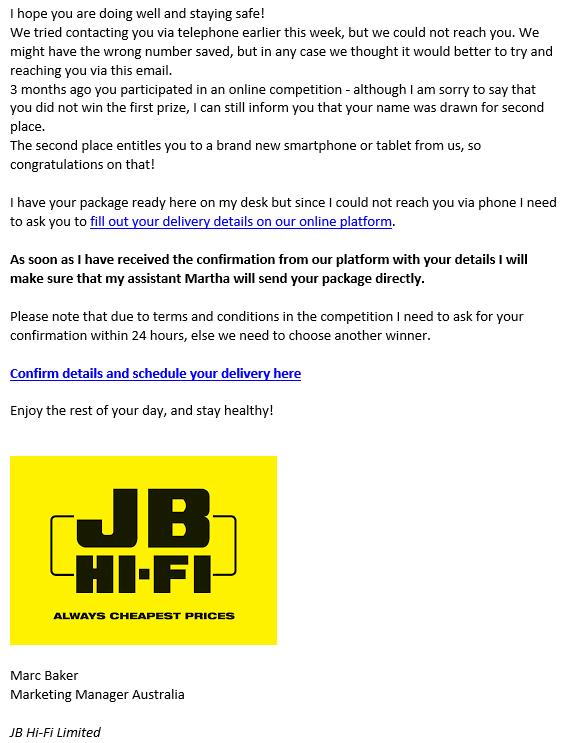 Recruitment 
SMS notifications from a person claiming to be a recruitment manager for JB Hi-Fi and offering a job opportunity.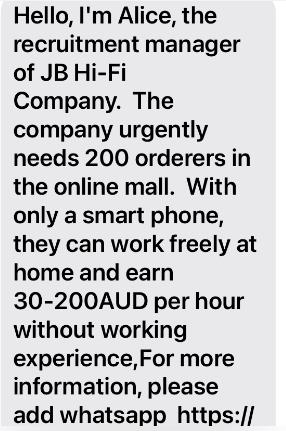 Refer a friend scam
Any app asking you to deposit money/bitcoin and asking you to refer friends in order to make money.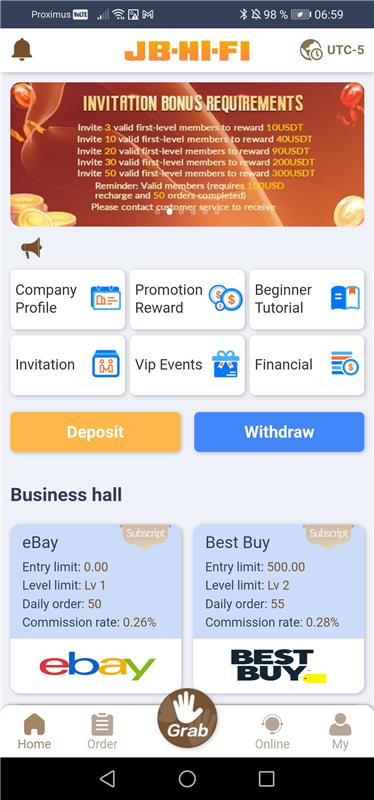 Instant deals survey
Notifications about going into a draw to win a competition after completing a survey. The artwork is an accurate representation of JB Hi-Fi branding.
Gift Card survey
Notifications about the chance to win a gift card or other prize by completing a survey.
Pick-up notification
SMS notifications advising your package is in the queue or that your package is ready with reference to a customer delivery address.
Product tester
SMS notifications about being signed up as a product tester.
JB Hi-Fi Gift Cards, iTunes cards and digital download tokens
Emails from someone claiming to be a government department, eg Australian Taxation Office (ATO) demanding payment via JB Hi-Fi Gift Cards, iTunes Gift Cards or Digital Download tokens.