21 October 2022
Due to a defect on the extension lead socket outlet the Jackson Model PEXT3M 3 Metre Extension Lead is being recalled.
How to check if your product is affected
If you have a 3-metre Jackson extension lead, there should be a safety warning tag around your product. The batch number is included on this label. The ONLY batch affected by the recall is PO11872.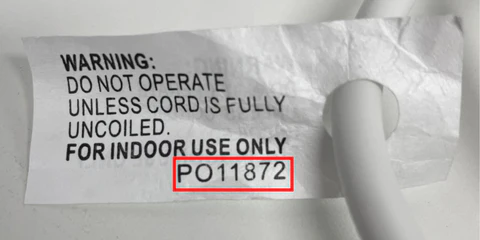 If the safety warning tag has been removed, please check if the markings on your product match the below images. The 3 markings to verify are:
Plug Approval SAA162901EA
Socket Approval SAA181842EA
Supply Cord Approval SAA170791EA

If the extension lead does not include these markings, it is not affected by the recall.
You can obtain a full refund by the following options:
Bring your Jackson 3-metre extension lead with your tax invoice or receipt to any JB Hi-Fi store for a full refund.
We can organise a return courier consignment for you. This service is free but may take a little longer. Once the item has been received along with proof of purchase, we will process your refund. If you would like to organise a return courier consignment, please contact us.